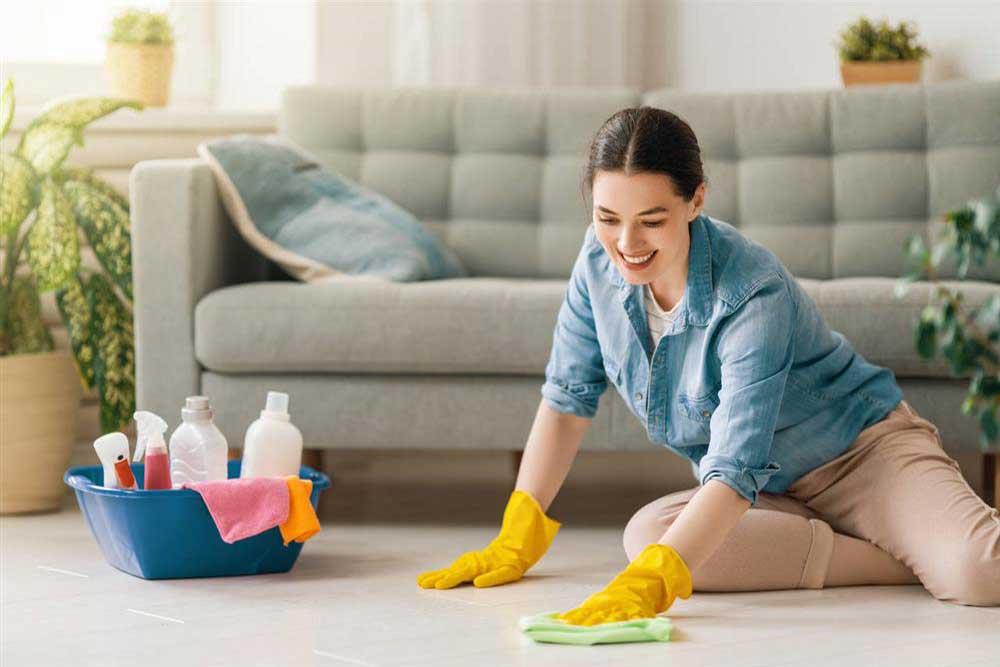 10 Natural Cleaning Recipes for a Clean Green Home
Natural cleaning means using natural ingredients to create your household cleaners. This can be as simple as placing white vinegar in your spray bottle to something more complex than blending different ingredients to come up with your own personalized, homemade product.
Fortunately, natural cleaning is attainable for many households, including yours! So, let's get started, shall we?
Here are the ten natural cleaning recipes for a cleaner and greener home:
1. Essential Oils
Using essential oils as a cleaning product is a great way to have a cleaner and greener home. You can try different oils, many of which are known for their cleaning and antibacterial properties.
Essential oils can also be mixed with water and vinegar. You can also use an essential oil diffuser to purify the air in your home while giving off a clean scent.
2. Washing Soda
This is an excellent natural alternative to help remove grease from your kitchenware and stains on clothes and other surfaces. These are also an excellent all-around disinfectant.
Not to mention, they help clean sinks, tubs, and bathroom tiles. Just avoid using them on aluminum surfaces. You can also purchase this in its unaltered form – sodium carbonate.
3. Natural Cleaning with Lemon
Using lemon as a cleaning ingredient gives off a fresh scent and can also be potent when combined with borax, another green cleaning product.
Both of these are well known for their cleaning and whitening properties, but each works differently. Borax is alkali and is excellent in cutting out grease, oil, and dirt.
On the other hand, lemon is slightly acidic and works well in getting rid of soap scum and deposits from hard water. To get both benefits, you can dip a lemon half into borax, then use it to scrub your bathroom, kitchen counters, cupboards, and appliances.
If you want to get rid of rust and food stains on countertops, all you need to do is cut lemon over the spot, squeeze fresh lemon juice in the area, and let it stay for up to 30 minutes.
4. White Vinegar
White vinegar is perhaps one of the most versatile yet cost-effective cleaning products that you can find. It can clean glass, bathrooms, dishes, fabrics, stains, floors, etc.
You can either use it in its pure form or dilute it with baking soda or water for a more natural clean.
5. Borax
You can find borax in the laundry aisle in the grocery or department store. Borax is a potent disinfectant and softens water to increase soap suds.
This is great for cleaning walls and wallpaper without damaging them. It also gets rid of stuck-on dirt and grime on the floor.
While natural, we still recommend avoiding eye and undiluted skin contact. It's also worth noting that many recipes that use borax use it diluted, making it an excellent natural cleaning ingredient.
6. Clean with Salt
Another ingredient that you shouldn't overlook from your staple is salt. It's a cleaning powerhouse, primarily because of its abrasive nature.
You can use it as a great natural cleaning product to remove baked-on grime over racks. You can also use it together with lemon wedges to clean copper. Mix at least ¼ cup of salt with two tablespoons of vinegar for a paste that removes hard water stains.
 7. Clean with Vodka
You should also keep a bottle of vodka to deal with several household chores.
Vodka does the same job as vinegar, only with an unpleasant odor. You can also use it to clean mirrors and windows and cut down grease on surfaces in appliances, backsplashes, and countertops. You can also use vodka in your laundry to eliminate those pesky odors.
8. Cornstarch
Cornstarch is also a great alternative when cleaning and polishing sliding windows, fiberglass doors, and other glass surfaces.
You can also use it to remove any tough dirt and stains on rugs and carpets.
9. Castile Liquid Soap
This soap is a common ingredient used in many green cleaning products, and it's originally made from olive oil. It doesn't have fragrances, so it's great for sensitive skin.
You can use this to make:
Dishwasher detergent
Laundry detergent
Homemade dish soap
Household cleaners
Soft scrub
Facial wash
Toothpaste
10. Other Natural Cleaning Products
Similarly, there are other natural cleaning products that you can use. Remember these cleaning recipes, and you can tackle several messes in your place more naturally.
Ammonia: For an effective grease-cutting solution, dilute at least one tablespoon of ammonia in a pint of water.
Liquid Dish Soap: To devise a single-use homemade cleaning solution, dissolve at least a teaspoon of liquid dish soap in a quart of water, then add a tablespoon of vinegar. Make sure you don't add the two simultaneously because the acidity in the vinegar will only neutralize the soap's alkalinity.
Over to You
So there you have it. Whether you're sensitive to chemicals or prefer green cleaning products, you can count on these natural household cleaners to get the job done.
Not only does this help you save the environment by going green, but you're also choosing a safer and chemical-free option for you and your loved ones at home.
The best part is that you don't have to take a trip to the grocery store to buy these; chances are, they're already stocked in your kitchen! It also helps that you work with a professional NYC House Cleaning service to ensure a clean and spotless home.