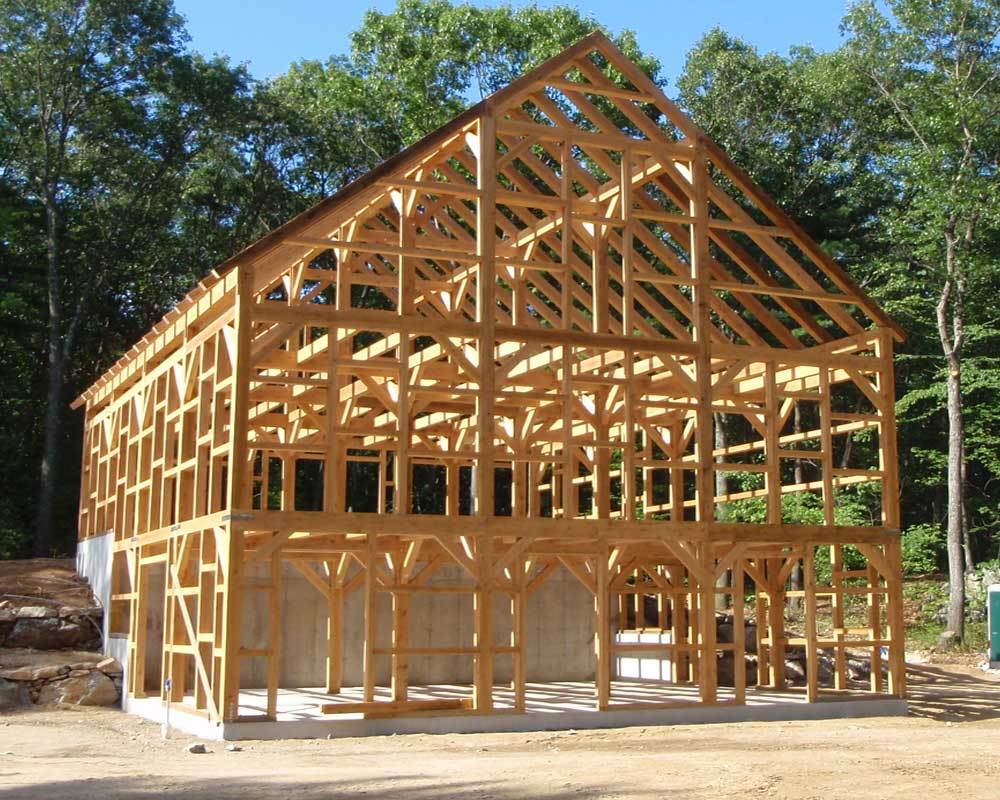 Pole Barn Plans and Kits
If you need to add shelter on your land, pole barn kits are a cost effective solution. Pole barns have a number of uses that range from living spaces, housing livestock and storing farming equipment. Pole barns can also function as a workshop or garage. The big attraction to pole barns is the low cost and fast building time. Purchasing pole barn plans will allow you to assemble a shelter in no time.
Deciding on the Style of Your Pole Barn Plans
Pole barn plans describe the simple process of assembling the barn. You will first need to create a base pad. This step can be skipped if you want an earth floor. Next, you will need to set poles in pre-dug holes in the ground. These holes need to be about five feet deep. To add further security and stability cement will need to fill a ¼ of the holes and should be poured in prior to setting the vertical poles in place. Pole barn plans also offer the option of using different types of building materials including recessed utility poles or rough cut lumber.
Next the beams will need to be connected across the top using beams and braces, after which the roof trusses can be added.
Using pole barn plans may seem intimidating initially, especially if you have no prior experience constructing anything large. However, these plans are simple to follow and make a great project for beginners. Most agricultural extension services all over the country will offer these plans for pole barns free of charge, or you can purchase fancier model plans online.
If you have decided to purchase your plans online, you can expect to find a number of versatile designs that you can easily adapt to fit your unique requirements. These plans also come in variety of sizes, which you can choose based on what you'll be using your barn for. Suitable for storing large pieces of farm equipment or related implements, these plans offer several versatile options including additional storage for hay, tools or machinery and stalls for livestock. Some plan designs feature three sides with an exposed or open front, while other plans are designed for complete enclosures
Pole barn kits can be ordered and purchased online. The cost for one of these kits will depend on the style, size and materials used. Costs usually range from two to eight-thousand dollars. The most affordable kits are large enough to be used as a workshop or to store farm equipment, while the most expensive models are designed for year-round homes or livestock housing. Expect delivery to take two to four weeks on average.
Tips From Pros
The plans for your pole barn may be well detailed in terms of the step by step process, but we've spoken to some expert contractors who gave us useful tips to follow and common mistakes to avoid when it comes to pole barn building.
First, pay special attention to the spacing of the columns. Contractors will usually space them anywhere from six to twelve feet apart. Keep in mind that the wider you space them, the less costly the structure will be because every column and truss costs money. Some contractors lack essential engineering knowledge when it comes to spacing columns and trusses and can end up spacing columns every eight feet, which is a total mistake.
Use only durable materials. Saving a lot of money by buying cheaper materials may seem like a good idea at the time, but in the long run you'll end up spending more than necessary when it comes to renovation costs. As an example, choosing low-quality inexpensive windows can end up costing you more within five to ten years if the frame disintegrates and this isn't even including the high heating and cooling bills you can look forward to thanks to the poor seals and insulation abilities.
This is a rule of thumb you should consider for every purchase you make for building supplies from doors to windows to insulation materials. Buying cheap materials up front will always mean higher maintenance costs somewhere down the line and often much sooner than you think.
An important piece of any post-frame building that's usually overlooked is wainscot. Wainscot is a steel panel measuring in at 3.5 feet and it's placed at the bottom of a building. It's usually available in different colors but you should get it the same color as the rest of the walls. Wainscot works as a buffer should you accidentally bump into your pole barn walls with a piece of farm equipment. If an accident happens, instead of having to replace the entire length of the sidewall, all you'll have to do is replace a small portion of the wainscot.
Always choose the building aesthetics wisely and carefully. Speak with your contractor regarding ways to dress up your barn without significantly upping the cost. As an example, you can consider a double gable which can give your barn a more residential look instead of paying for expensive roofing or siding materials.
Installing a sliding door is less costly than hydraulic doors or overhead garage doors and they can be a major money saver in the end. Sliding doors are also much easier to open and close thanks to improvements made to trolleys and tracks.
For condensation control you can use Drip Stop. Drip Stop isn't insulation, however, it can effectively control condensation build up in buildings that are not insulated. It also works well for cold storage buildings, mini warehouses and any other place in which you want to deter moisture from dripping on your belongings. It can also end up saving you thousands of dollars when compared to installing ceiling insulation.
Adding a steel flush wall liner system interior to your pole barn is a more affordable option than finishing with drywall. You'll end up with a much more durable interior without the hassle of hanging drywall.
You should also carefully consider your soundproofing options. Some people choose to use ceiling material that's sound absorbing, but that isn't exactly the cheapest way to go about it. Instead, you can use a perforated steel liner, which is a much more cost effective way to reduce noise.