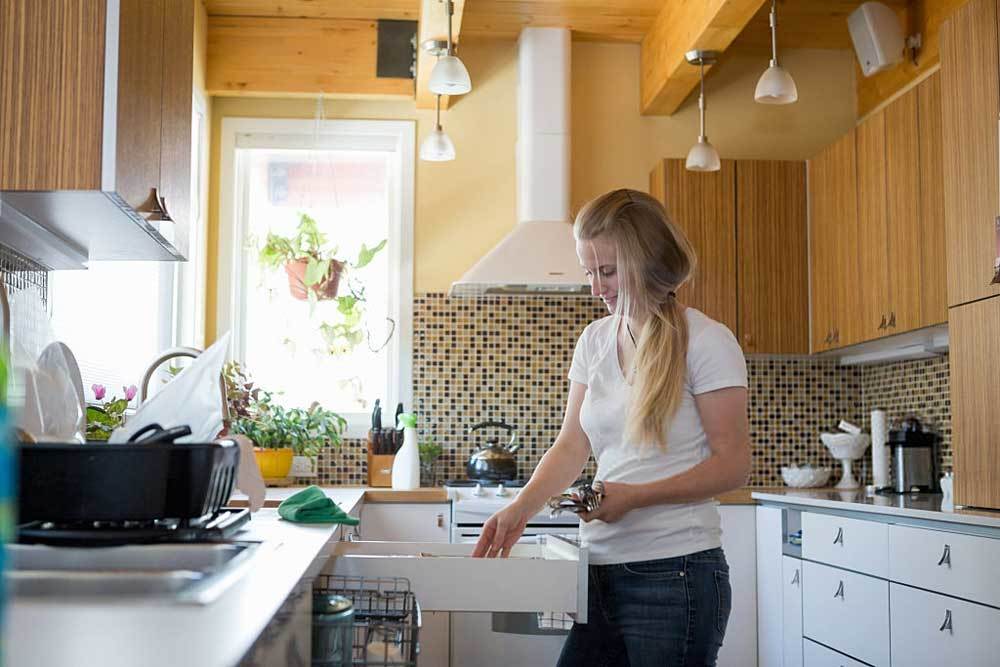 7 Remarkable Ideas To Renovate Kitchen Under A Budget
The kitchen is the most popular and expensive place to renovate in a home. It is much more than just a place to cook and eat. It has transformed into a hub of activity, conversation and social gatherings for most people.
A well-furnished kitchen adds a remarkable value to a home. This is why homeowners strive to upgrade their kitchens once in a while. The project demands huge investment. An average kitchen remodeling project costs up to $14000. And this is just the median investment made by US residents.
It is not necessary to spend this much money to give a new look to your kitchen. With proper planning and some remarkable ideas, you can opt-out of the full renovation price and get an amazing new look!
Here are the 7 remarkable ideas to renovate your kitchen without breaking the bank.
1. Reorganize Your Kitchen
At certain times, your kitchen in need of reorganizing instead of a costly renovation. This is especially true when your kitchen seems too cluttered. You need to increase the utility of the space without adding more cabinets.
The organization is possible at a fairly small budget but can bring huge changes to the functionality and curb appeal. Get some in-cabinet racks to keep pans and pots in order. Cabinet organizers cost up to $195 at maximum.
The drawers can be made clutter-free by adding separators. Countertops look more purposeful if you buy matching containers.
2. Stencil The Old Tiles
Tiles take up a huge chunk of remodeling budget. Adding a backsplash keeps off the oil and food off the walls but is a cost driver. Prying off the old tiles and adding some new ones can be too expensive for those tight on budget.
You can save hundreds of dollars by painting the tiles instead of replacing them. Plain paint might seem boring to some people. First, clean the tiles thoroughly and then attempt repainting.
Stencils can be used to add more style and design to tiles. They are easily available online and the cost is far less than the new tiles.
3. Add A Fresh Coat Of Paint
Adding a fresh coat of paint is downright the most budget-friendly change. It brings a new life to the kitchen when done right. Choose a different paint color from the previous shades so that the change is noticeable and refreshing.
White paint is a great choice to brighten up the old places. If your kitchen is rocking in white for many years, add some brighter tones. The neutral and lighter shades are the safer choices but bright accent walls are awesome additions. The crisp white trim color brings a new life to kitchen cabinets.
4. Bring In Some More Light Fixtures
Play smart and bring in more light. Adding some more light fixtures at the right corners and angles can bring a huge change without busting your budget. It instantly upgrades the look of your kitchen. Invest your money in buying stylish hanging pendants over the kitchen island.
The overhead lighting should be bright and concentrated at the most-used spots of the kitchen. Under-cabinet lighting fixtures are popular and exotic additions that add more purpose to the otherwise empty space. LED lighting is quite cheap and reliable.
5. Change/Repaint Cabinet Doors
Installing new kitchen cabinets mostly takes up to 30-35% of the remodeling budget. You can save most of this money by updating the doors. Manufacturers can be requested to provide only the fronts. New doors can hide the old cabinet walls quite efficiently.
At certain times, a wooden cabinet door only needs a new stain. You can also repaint the doors on your own. A professional cabinet painter can add more value to your invested money. The trim or molding can be replaced by spending only a few hundred dollars.
6. Paint The Floor
Kitchen floors have a huge impact on the curb appeal. If you have tile floors consider grout cleaning and sealing. The concrete tiles are not so easy to clean but you can save the replacement cost. For the kitchens with wood floors, consider staining or painting.
The cost of professional refinishing of an average kitchen wooden floor is nearly $2000. Painting the floor ranges from $200-$300.
7. Foundation Repair
One of the most ignored yet the most crucial upgrade for an old kitchen is foundation repair. Look for the visible signs of foundation damages such as cracks, sinking, and upheaval. Invest your money in foundation repair before all the above-mentioned changes for kitchen renovation.