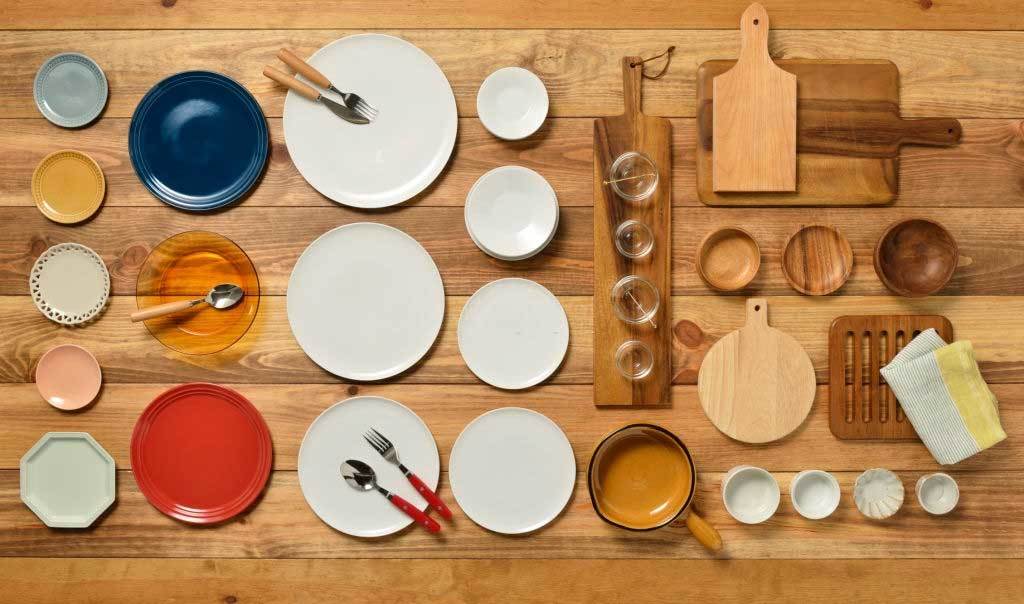 Ten Tableware Trends for 2020
Tableware is a great way to add interest to any setting. It can instantly uplift a simple monotone table layout to become a fun and vibrant one or add a luxurious charm with a hint of gold.  
The best thing about tableware is that one can find a channel for expressing creativity, mix and match from existing collections and create novel table-scapes with just a few new unique additions. The idea is to have fun and enjoy setting up tables for loved ones. Then whether you are a master table stylist or a dabbling enthusiast, the end result is always praise worthy! 
Nestasia with its wide range of tableware did some trend spotting and shares them below as 2020's top tableware trends to lookout for: 
1. Material Fusion: Fusing together materials like ceramic, wood, metal, glass and more to create refreshing new designs coupled with utility has been on the rise. A wide collection of bowls with handles, ceramic cheese boards with wooden trays, Teapots with metal handles, porcelain mugs with cork coasters and more are available to choose from. (bowl with handle, plate with handle, kettle with metal handle) 
2. Marble: A popular trend from 2019 continues to feature in tableware but with a twist. The pattern is reimagined to translate onto surfaces in the form of decal plates and platters, cups and mugs and much more. Easy to care, trendy and chic, this trend is here to stay! (marble tableware) 
3. Texture: Tableware like platters and serving bowls are interactive pieces that users not only see but also touch and feel. This is where textures come into play and invigorate the sensory organs to have a deeper sense of enjoyment from the food and the setup. Wooden textures on ceramic platters, hand carved textures and speckled stone textures on dinnerware are some of our top picks for the trend. (Long plate, wooden texture plate) 
4. Terrazzo: The Terrazzo pattern is back with a bang and splashed over multiple types of tableware from pasta plates, trays, mugs, teapots, cups, cake stands, coasters and more. The mosaic pattern is a versatile one where the grain color can be customized to any palette of choice from pastels to deep shades. The pattern sees an emergence and widespread use not only in tableware but also across home décor in the form of printed cushions, wallpapers, and more. (terrazzo tea set, cake stand) 
5. Gold Accents: Subtle hints of gold in the form of speckles, veins, edging and accents add a sense of luxury to the table setting. Gold accent tableware can be made to look elegant, highlighting the food served in them and the plating skills of chefs. The gold trend seems to be an everlasting one in tableware with a twist of subtlety in 2020.  (Cara, marble with gold) 
6. Glass cookware: Entertaining at home is the new normal. Thus, emerges the need for utilitarian cookware that looks aesthetically pleasing. Cooking pots made of borosilicate glass that can withstand high temperatures and be used to cook directly on the stovetop, with smart design can also be brought straight to the table for serving. The clear glass helps to enhance the colors and contents of the pot, thus creating a beautiful and useful trend, one our favorites. (glass kettle and cooking pot) 
7. Matte: Matte finishes are the new must-have aesthetic in tableware products. The toned down, non-glossy effect on ceramics, wood and more, lends a modern style to tableware products like plates, bowls and trays. The matte finish tableware can further be elevated by paired it with a few glossy hero pieces that balance out the table setting. (matte bowls)
8. Color Pop: Color pop crockery is the newest trend, catching on just in time for the festive season, with colorful serve-ware, bakeware and more! Colorful bowls and tableware can add to the festivities with bright bursts of color making the food more fun and quirkier. A variety of table décor can be created with colors, whether it's a two-toned setting or a multicolor vibrant one. So, color block not just your outfits but also your table décor this 2020 festive season. (bakeware) 
9. Geometric Lines: Contemporary, chic and clean lines is what this trend is all about. From polygon shaped crockery like triangle snack plates, square dinner plates, pentagon mugs, hexagon platters and octagon serve-wares, this trend has been seeing a lot of creativity come through with unique designs, almost like artwork on the table. Mix this with some matte finishes and gold accents and you have a clear winner! (geometric collection, heart collection) 
10. Florals: We had to touch upon this trend, a timeless classic that is rehashed to bring in some new floral shapes and patterns that add softness and freshness to a table setting. Be it a flower bowl or a floret pattern plate, a beaded colorful mat, or even leaf cutlery, the floral trend is a new and improved one! (Flower bowls) 
So, pick and choose from fresh new trends and incorporate them in your tableware. Mix and match these home decor trends and let it work the magic on the table. Incorporate a blend of timelessness as well as newness through pieces so that small changes can create an entirely new setting. 
Add life with the help of fresh or faux flowers, tablemats and décor elements like candle stands and vases that add to the table aesthetic. Select for the time of the year and the season. For example, bright colors for the festive season, fresh pastels for the spring summer, warm tones like midnight green and burgundy for the winter months and so on.
Stock on must-have tableware like dinner plates, pasta plates or deep plates, dessert plates, platters in the form of sushi plates, long plates and serving rectangle plates, cake stands, snack bowls and tea sets. Once you have your basics set, you are all set to host parties, games night sessions, brunches and more. This can be a good start to building a formidable collection and entertaining at home.